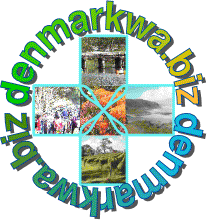 denmarkwa.biz
Under Construction - any suggestions?
Contact - emailinfo@denmarkwa.com.au
A site for businesses in the Denmark Shire and some of the adjacent areas with a close connection to the district (e.g. Youngs, Torbay etc)

It is possible to think of business in four major divisions in Denmark.

agricultural
retail
services

Ross McGuinness Photography

Denmarkwa Web Sites

Alternative Health and Wellbeing

Simply Lateral

tourist




Mary Rose

Coopers Cap B&B




As with many businesses there is inevitably some overlap. For example one winery may depend entirely on visitors while others use their cellar as a showcase but sell the bulk of their wine through retail outlets.
---

More about RiscOS - the Productive Operating System


Created and maintained using Risc OS4 and HTMLEdit on a StrongArm powered RiscPC
---
Last updated: 7 January 2006
Copyright - 2002-6 - Denmarkwa Web Sites